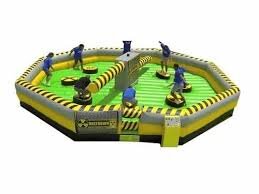 Toxic Meltdown




$750.00

Please call to reserve this item.

Prepare to be transported into a post-apocalyptic realm where toxic waste has taken over the world. The Toxic Meltdown Mechanical Ride is a heart-racing challenge that will test your reflexes, agility, and stamina. This multi-player ride is designed to emulate the dangers and excitement of navigating a hazardous environment.
Up to eight participants can join in on the excitement, dazzling onlookers with their agility and lightning-fast reflexes. The objective is simple but challenging: dodge the swinging arms coated in toxic sludge as they rotate at varying speeds and heights. The atmosphere is electric as participants strive to be the last one standing, avoiding the toxic meltdown and emerging victorious.
Pricing includes 2 Hours and 1 Attendant
$75 for each additional hour