The Best Bounce House & Water Slide Rentals in Jesup, GA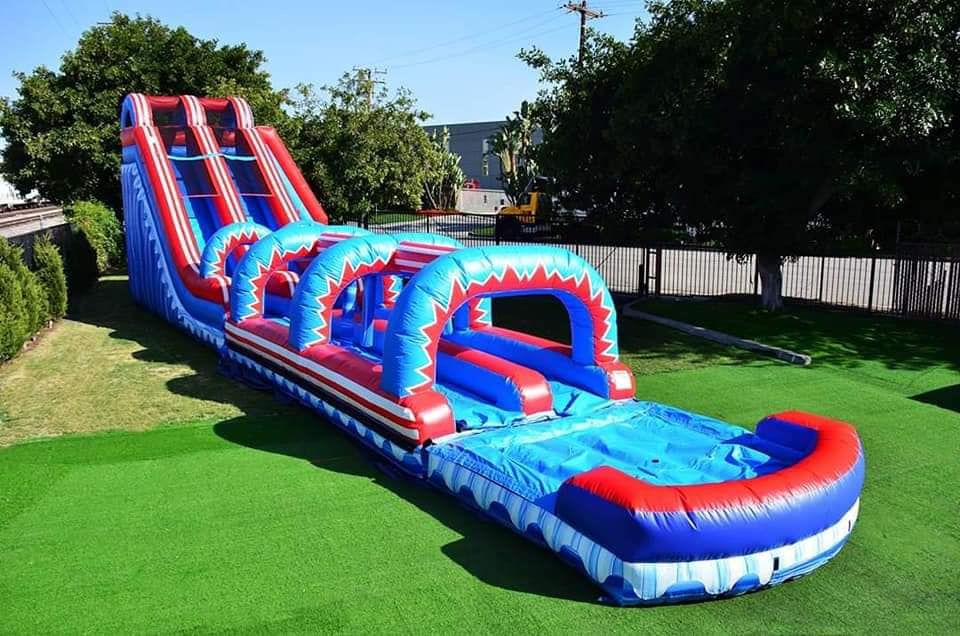 Find The Perfect Party Package for Your Event in Jesup, GA
Bounce houses aren't for just for kids anymore! If you're living in
Jesup, GA
and want to inject a little fun and excitement into your next party or event, a bounce house rental from
Graceland Bounce
is the way to go. Whether it's a special birthday or an upcoming holiday, a vibrant and colorful inflatable is sure to bring your guests closer together and make your event one that won't be forgotten. And the best part? Our Jesup bounce house rental packages offer all the fun of inflatable entertainment at a price that won't break the bank! Keep reading to learn about the perfect
bounce house or water slide rental
for your upcoming Jesup celebration. Whether you're hosting a birthday party in Highland Acres, a family reunion in Dogwood Circle or even a fun school event at Jesup Elementary School, we have the best selection of infltable rentals for your party or event. For the best selection of party rentals and inflatables in Jesup, you've come to the right spot.
Check Availability
Order-by-Date
Combo Bouncers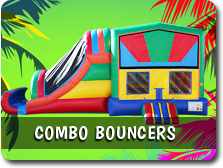 Toddler Inflatables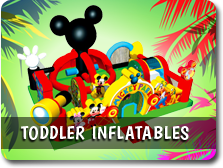 Dry Slide Rentals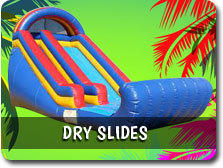 Water Slide Rentals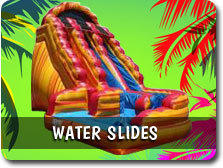 Obstacle Courses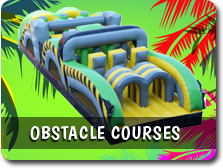 Bounce Houses Rentals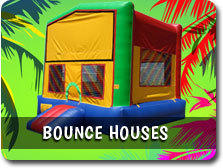 Interactive Games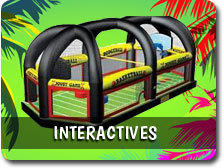 Concessions and Addons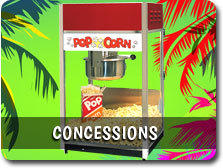 Tents Tables and Chairs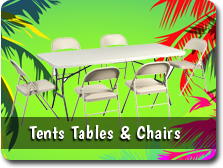 Trackless Train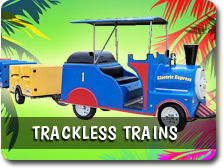 Whether you call them bounce houses, moonwalks, spacewalks, moonbounces, bouncy castles, or fun jumps, you can rest assured that we have the largest, most unique selection around! Our inflatable bounce houses are perfect for kids ages 3 and up and most of them can accommodate 8-10 children at once. The best part is that they come in so many different colors, shapes, and themes that you're sure to find one that compliments your event perfectly. But no matter how many we have in our line up, our classic Rainbow Bounce 3n1 Castle is always one of our most popular choices, it fits in perfectly with any event! We are Jesup Georgia's leading provider of fun.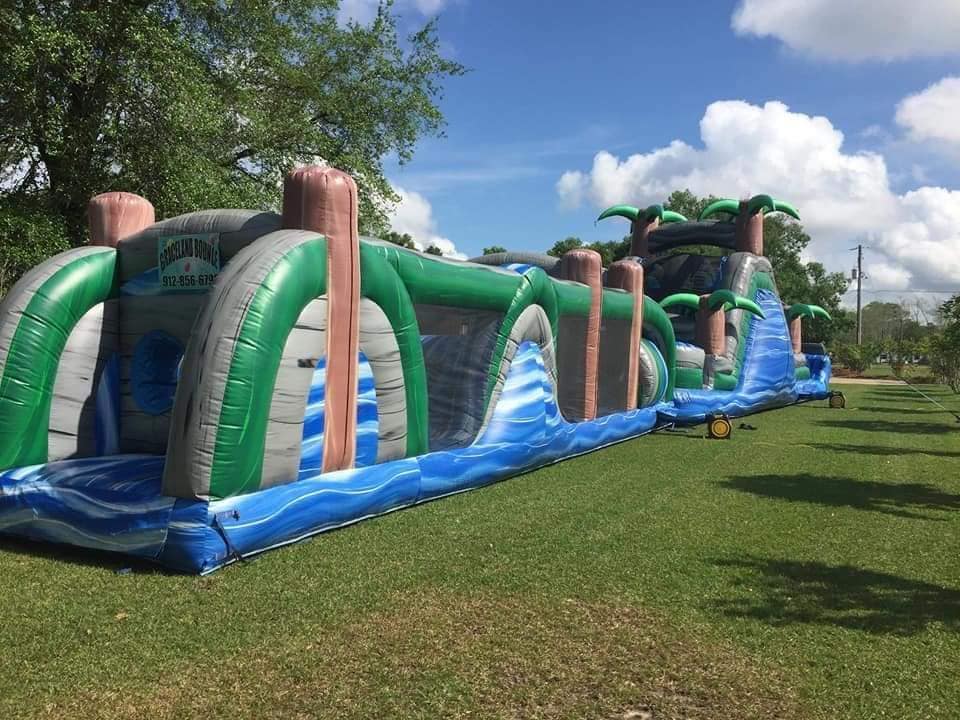 What type of bounce house and water slide rental options are available in Jesup, GA?
Jesup, GA offers a wide range of bounce house rental options for all types of occasions. Whether you're throwing a kid's birthday party or hosting an adult event, Jesup has plenty of rental possibilities.

You can choose from large commercial-sized bounce houses perfect for any outdoor event to small inflatable slides for more intimate gatherings. Some rentals even offer the option to include water slides and obstacle courses. Along with traditional bounce houses, there are also options such as gladiator jousts and bungee runs which provide hours of competitive fun.

No matter what type of party you're throwing, Jesup has an exciting selection of inflatable rentals that can make your event special. We have everything from princess bounce houses, awesome obstacle courses, concession machines and everything you need for awesome birthday parties, family reunions, corporate events and more.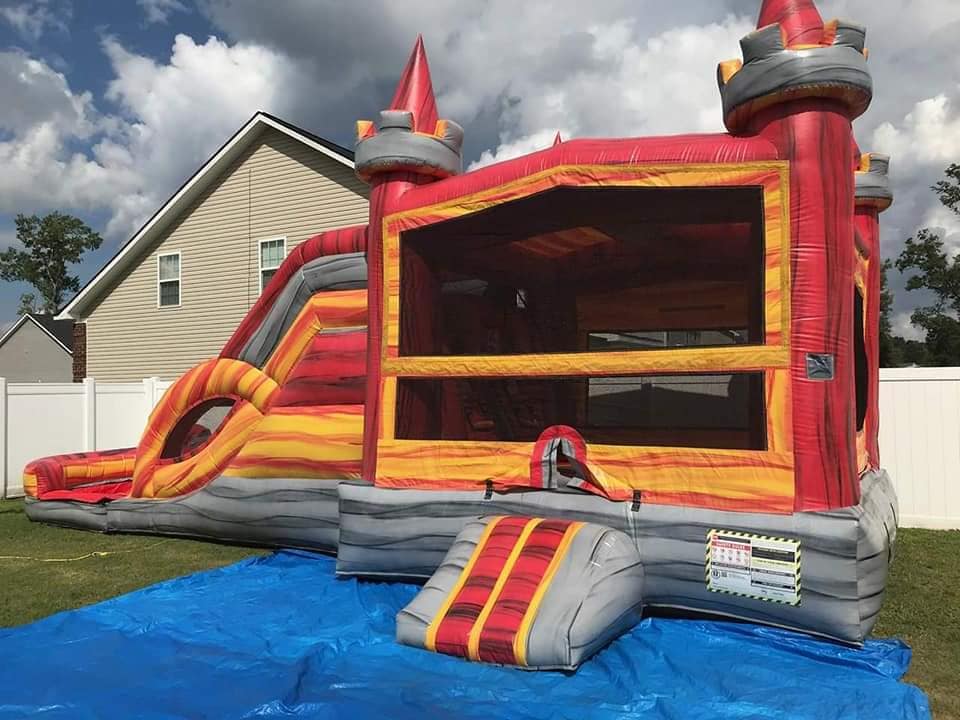 Are there any safety features I should be aware of when renting a bounce house or water slide in Jesup, GA?
When renting a bounce house in Jesup, GA, it is important to be aware of certain safety features. Before renting, make sure to inquire about the safety equipment included with your rental, such as flagging or banners to mark off restricted areas and/or emergency shut-off buttons.

Also look for a rental company that inspects their bounce houses regularly and follows manufacturer requirements and guidelines. Additionally, confirm that the bounce house is being set up on an even surface, preferably one without sharp objects or large protrusions.

Finally, make sure an appropriate number of adult attendants are nearby at all times, as well as first-aid materials in case of any injury. By following these steps, you can ensure your event will be as safe and enjoyable as possible!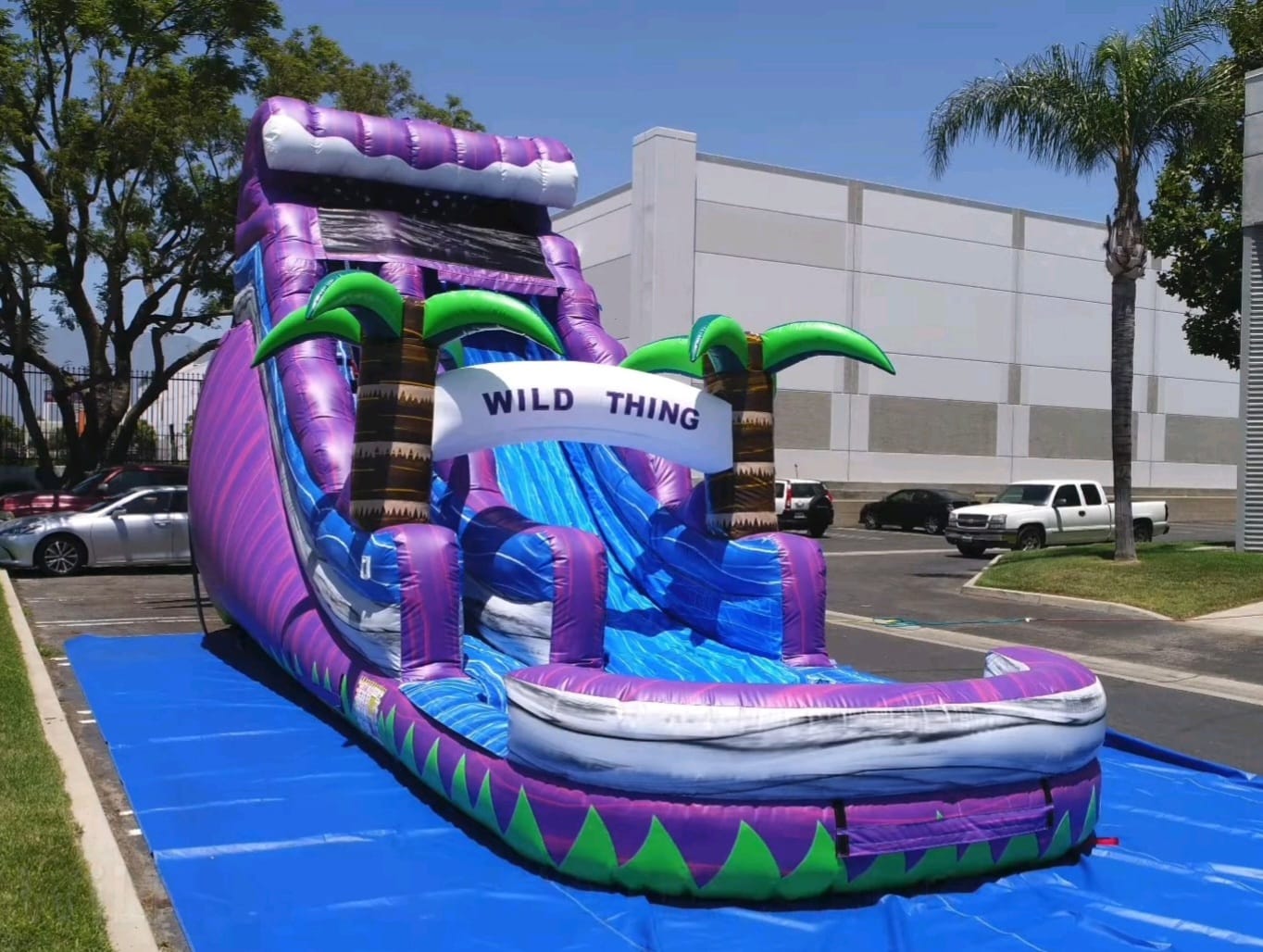 What size and features do the different water slides and bounce houses have?
The variety of bounce houses available depends on the rental company you choose in Jesup, GA. Generally, most companies offer different sizes and features to accommodate your party needs.

Smaller bounce houses are ideal for small gatherings or children's parties. They usually come equipped with features like mesh sides so you can keep an eye on your kids, as well as safety bumpers, ground stakes and anchors for extra security.

Larger bounce houses can handle events with more people or bigger children. When shopping around, look for features such as basketball hoops, slides, obstacle courses or built-in themes like castles and pirate ships. Some larger bounce house rentals even have tunnels and pop-ups for added fun.

When considering any kind of rental, make sure to read reviews online to ensure you're getting the best quality product and services for your money.
Creating Lifetime Memories with our Bounce Hous & Water Slides in Jesup GA
Renting a Bounce House for Your Children's Special Event in Jesup GA can be a great way to give your children and their invited guests an opportunity to have an unforgettable event. Not only is it fun for them, but there are also several benefits associated with having a bounce house at your gathering. For starters, having a wide variety of inflatable options to choose from will keep the guests entertained for hours on end and give adults some time to comfortably socialize during their party. Furthermore, many locations provide extras such as music, Wi-Fi connection, and catering, making organizing a special event simpler than ever.

On the other hand, it's important to consider that the price of renting a bounce house can vary depending on the area and size of the unit chosen. Thus, it might not be worth investing in if you don't need more than just a few hours' entertainment during the event. Additionally, safety should always be taken into account when dealing with this type of equipment as small children may not be aware of its potential risks.

Overall, renting a bounce house for your children's special event in Jesup GA can be a great way to make sure their day is one they'll never forget! However, factors such as safety should always be considered before making any final decisions. Taking all these points into consideration before deciding can make sure the choice you make is the right one for you and your guests. With that being said, how about we take a look at what kinds of bounce houses are available?

We also have the best delivery crew around to put everything you need in the perfect place. Let us turn your backyard into a summer wonderland with our awesome jumper and water slide rentals. We also provide the fun for many schools, churches and other organizations. Feel free to give us a call for a quote for larger events. Our service area covers a large portion of Georgia. Depending on the size of the event we can travel to Savannah GA, Valdosta GA, Statesboro GA or you can rent near our warehouse in other areas such as Ludowici GA, Brunswick and more.
Renting Bounce Houses & Water Slides from Graceland Bounce
When it comes to renting bounce houses in Jesup, GA, people love GracelandBounce.com because we offer a variety of options for different party packages. This is great for parents who want to customize their rental with extra add-ons such as interactive games and slides. Our staff is friendly and we help customers every step of the way before, during, and after the rental period. Furthermore, we have an excellent record in terms of safety; all of our products adhere to safety guidelines put forward by the state of Georgia and must be inspected by a technician prior to being rented out.

Given all the benefits of renting from Graceland Bounce, people often consider us when planning a party or event in Jesup, GA. With plenty of options to choose from, we make sure that we offer something for everyone's budget and needs. Now that you know what we can provide, you may want start evaluating which inflatable rental works best for your next party.

To get the most out of your rental experience, it is essential to plan ahead - taking into account things like the amount of space available, how many guests will be attending, and any seating or entertainment needs. Knowing these details before getting started can help make your special occasion run smoothly and save time in decision making. For more tips on making the most of your rental experience keep reading our guide on "Tips for Making the Most of Your Rental".
Tips for Making the Most of Your Rental
Whether you're looking to get the biggest bang for your buck or just want to make sure everyone – big and small – has a great time at your party, there are a few tips to keep in mind when renting a bounce house in Jesup. Keeping these tips in mind will ensure you get the most out of your rental experience.
The first thing to consider is size. When examining the different prices and packages available, consider how many guests will be attending your party as well as what age range. A smaller bounce house may work best if you're expecting only younger kids at your event, while larger ones provide more space for groups of all ages. Having a good idea of the number of guests and their ages will help ensure you find a package that best suits your needs.
Also, be sure and read online reviews before you choose a company to rent from. Here at Graceland Bounce we have a 5 star reputation on Google, Facebook and other platforms. It's not only important to choose a company that has excellent service, but you also want a company that makes safety a top priority for your bounce house and water slide rentals.
Finally, it may seem obvious but don't forget to look at insurance coverage before committing to a rental. Not all companies provide this as standard so be sure to ask questions before it's too late, especially if you'll be hosting children at your event, as this could prove invaluable if someone were to sustain an injury due to any faulty equipment during use. We are fully
licensed and insured
and can provide proof upon request as well.
At the end of the day making sure everyone enjoys a safe and exciting experience at your party means doing some planning ahead of time rather than winging it. With Graceland Bounce we take the stress and worry out of the equation and provide a fun and safe experience for you and all of your guests. Whether it's deciding on size, quality, add-ons, or important security measures like insurance, knowing what options are available beforehand can help guarantee a successful time – all while keeping within budget!